Home
>
Solutions
>
Customized Applications
Customized Applications
SAGE Accpac ERP Accounts Payable Integration for the GWA-OW Calculator software by A.D. Morrison & Associates Ltd.
Are you struggling with Social Services Bank Reconciliations every month?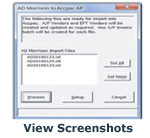 Streamline the bank reconciliation process and the issuing of payments using our A.D. Morrison & Associates Ltd. integration. This unique custom developed application imports all Social Services entitlements into Accpac Accounts Payable as invoices, then cheque/EFT payments are issued from Accpac. In a few easy steps, you can reduce your month end reconciliation time down to under one hour!

Use this powerful application to:
Complete setup and configuration screen
Setup new vendors in Accpac AP
Enter banking information in EFT Processing
Export the file(s) from AD Morisson
Import into Accpac Accounts Payable as invoice batch
Process cheque and EFT payments
Reconcile bank using OFX import
Contact us for pricing or for more information.


---
financial statement departmental distribution
Cut down on paper and time. Distribute your financial statements electronically to managers!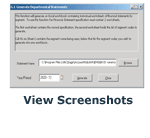 It's easy! Create custom lists of departmental statements for each manager, generate one single Excel file with individual worksheet for each department, and email the workbook. It is always a cumbersome process generating your financial statments when the managers' departments are not in a range.

Eliminate this manual process, save time and the environment!
Open Accpac statement designer F/S template
Populate sheet 2 with program/department number list
Run macro, selecting appropriate file and Fiscal Year/Period
Save generated statement as Excel file
Attach to email as required
Managers can now add notes and comments at any time
Contact us for pricing or for more information.


---
bank reconciliation - ofx file conversion utility
Peace Hills Trust - Are you still manually clearing cheques when completing month end bank reconcilations?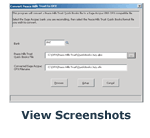 Simplify this tedious process and reconcile your cleared cheques in seconds! This new conversion utility takes your current Peace Hills Trust statement download file and quickly converts it into standard file, ready for import into Accpac. Reduce bank reconcilation processing time by hours, or even days!
Download your online PHT bank statement
Convert the file to standard OFX file format
Import the converted file into Accpac Bank Services
Run the "Reconcile OFX" routine and auto clear all cheques from the bank statement
Contact us for pricing or for more information.


---
emailing of forms and payroll advices
Manual paper distribution and mailing of invoices and pay advices is now a thing of the past! No more folding, stuffing and stamping! eTransmit provides a fast and easy way to send Sage Accpac ERP forms to Payroll, Accounts Receivable, Accounts Payable and Purchase Orders via email or fax.

Ask us today about eTransmit!


---

SPN Inc. proudly serves clients across Canada including Barrie, North Bay, Collingwood, Huntsville, Orillia, Gravenhurst and Muskoka.

Call us today at (705) 792-1706 or by email at info@spninc.org to find out how SPN can help you find and implement the solutions that fit you!







The Solution Provider Network Inc.
ERP Accounting Software for First Nations, Not For Profits
132 Commerce Park Dr, Unit K-233
Barrie
,
ON
,
L4N 0Z1
705-792-1706
nboileau@spninc.org