The Solution Provider Network Inc. was originally established in 1998 as Near North Consulting by Nicole Boileau, an Accpac Certified Consultant. Increased demand for specialized services over the years prompted the concept of merging several certified consultants to create a unique blend of skill sets, all working together while still maintaining the personalized service our clients had become accustomed to.
SPN Inc provides services to a vast array of clients, from First Nations and Not For Profit organizations to Manufacturing and Distribution companies. With specialists in all aspects of business solutions, we work as a dedicated team to ensure all of our clients' needs are met, regardless of the complexities or anomalies we may be facing.
We service clients across Canada, whether through remote assistance and support, or onsite depending on the individual client's needs. We pride ourselves in providing the most cost effective solution, and work diligently with the client to achieve the desired results, building a mutual trust and respect throughout the process. Taking the project from beginning to end is the key, and ensuring we all have the same goal in mind, initially, and long term.
Testimonials
---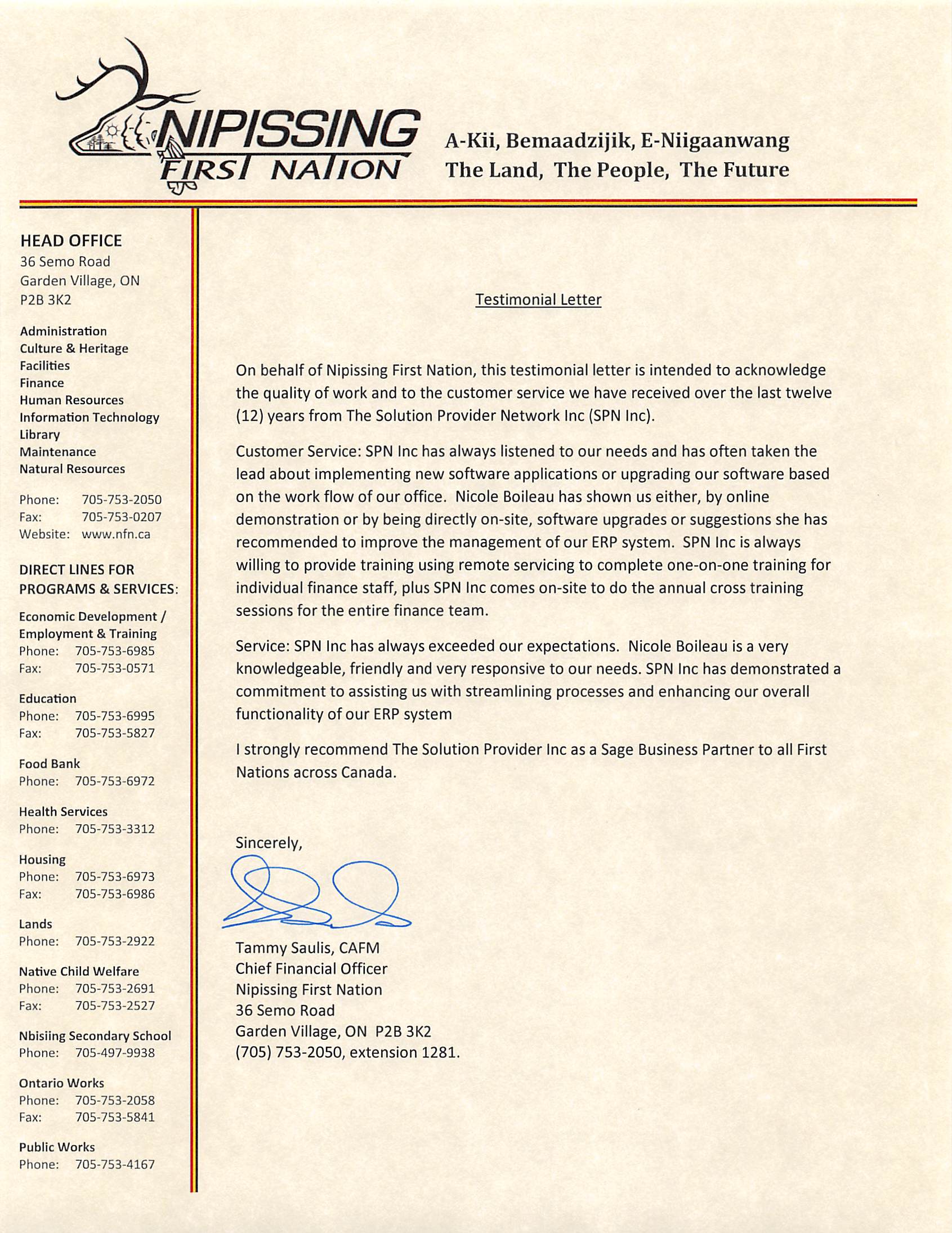 ---

I have been using Nicole's (Solution Provider Network Inc.) company since 2010, and I have to say that it has transformed the way we run our organization.
She has introduced us to some amazing products which allow us to be more productive. Our organization branched out and became our own entity in 2012 and without Nicole's expertise we wouldn't have had such an easy transition. Her knowledge and expertise allowed us to be comfortable in trying new Sage 300 ERP modules. All this adds up to a very comprehensive accounting system that we use on a daily basis.
I look forward to many more years working with her company. It has been a great experience
Judy Pinay
Accountant
Treaty 4 Education Alliance Inc.
---

Autodyne Machinery Inc. has been using the services provided by the Solution Provider Network Inc. team for Sage 300 ERP consulting for approximately 10 Years with excellent results.
The Solution Provider Team originally came to Autodyne to correct an installation lead by another prominent firm that had gone very wrong. SPN was able to resolve all of the financial software issues and got the company up and running again.
We have great respect and confidence in the abilities, knowledge and professionalism of the SPN team, coupled with their focus on the core issues.
We highly recommend SPN without hesitation to any firm undertaking a conversion to Sage 300 ERP and we are confident that you will be adding significant value to your firm.
David Bushell
Controller
Autodyne Machinery Inc.
Phone: (905) 427-3210
Fax: (905) 427-0409
---

In May of 2012, I was hired by Curve Lake Council with a mandate to implement a Financial Management & Controllership system. Unfortunately we encountered a few financial software consultants who lacked an understanding as to how First Nations operate and a willingness to work with my staff to develop greater independence. My staff happened to meet with Nicole Boileau and requested that I consider Nicole to be Curve Lake's system support service provider. Curve Lake has worked with Nicole the past 5 years to develop specific modular training within Sage 300 ERP and address our integration of four servers across the organization.
Our auditor has identified this strong relationship and acknowledged the accounting work provided through the module training. This process has placed finance staff in a position to better understand and manage the ongoing demands facing an organization that must provide timely and accurate financial information to Curve Lake Council and its funders.
Brian Hamilton
Finance Manager, Curve Lake First Nation
---

The Solution Provider Network Inc. helped us migrate from Adagio to Sage 300 ERP for all of our accounting and financial reporting needs. We use the Accounts Receivable, Accounts Payable, General Ledger and Financial Reporting modules.  Thanks to Nicole's excellent knowledge of the program and outstanding customer service, the transition was seamless and my staff love that it is so user-friendly. Service has been outstanding and timely; there is no problem that Nicole has not been able to solve and upgrades are pain free. I would highly recommend Nicole and her firm for all accounting and reporting needs.
Karen Staples
Director of Finance, Community Living Huronia
---

"I have been dealing with Nicole from The Solution Provider Network Inc. for many years.  Her knowledge, assistance, quick response and ability to solve any problem with our Sage 300 ERP system is outstanding.  Top quality service with a friendly personal approach.  Highly recommended."
Thank you Nicole...
Carole Lepage - Office Manager
J.G. Fitzgerald & Sons Ltd.
---
I met Nicole at the AFOA conference in Ottawa where I was trying to find a solution for our Sage 300 ERP banking module. The finanicial institution we were dealing with was not compatible with ofx file imports into our bank reconciliations to clear cheques automatically. Nicole was able to determine a solution for us and after years of manually completing them we were finally able to do them in hours instead of days. Since then through her expertise she has provided a number of solutions to streamline our accounting procedures and even intertwined them with HR resulting in fewer mistakes and much faster results.
Sherry Dukart, CGA, CPA
---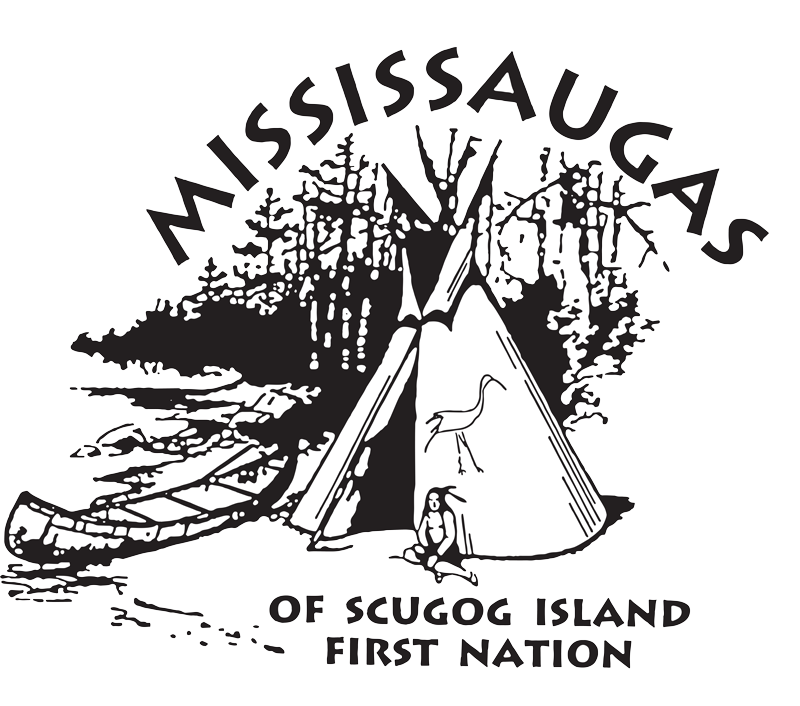 Nicole at The Solution Provider Network Inc. always provides friendly and efficient service. She keeps our Sage 300 ERP up to date and is always able to help, whether it's to provide training on a new module, help set up a new process or work through problems. We know we can rely on Nicole for all of our financial software needs.
Laurie Marsden
Financial Manager
Mississaugas of Scugog Island First Nation